sections:
New Publications
|
Previous Books
|
SUSAN WILSON'S NEWEST BOOK —
Women and Children First: The Trailblazing Life of Susan Dimock, M.D.
Format: Softcover
Publication Date: Fall 2023
Publisher: McFarland
ISBN: pISBN: 978-1-4766-9248-7, eISBN: 978-1-4766-5046-3
Language: English
Price: $39.95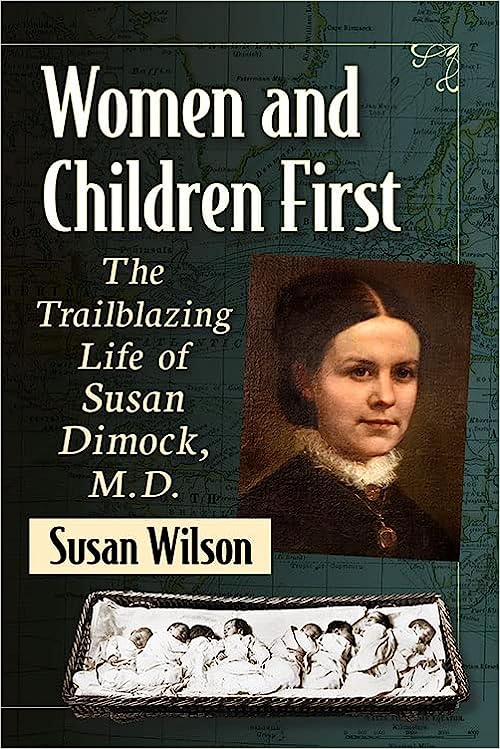 In 19th-century America, it was assumed that woman patients would be treated by male doctors. The idea of a "woman doctor" was deemed by many to lie somewhere between unfathomable and repugnant. Then along came Susan Dimock. A young North Carolinian who dreamed of becoming a physician, and grew up to practice medicine in Boston, Dimock was not the first American woman to battle the patriarchal medical establishment. But in the 1870s, she was arguably the best-educated, most-skilled woman surgeon in the nation as well as living proof that a woman could be competent, smart, lovely, and kind--all in the same package.
Dimock's life reads like an adventure story, from recoiling at slave auctions and witnessing Civil War battles to escaping her fire-engulfed Southern hometown, then finding her place among Boston's most enterprising women. She studied medicine in Zurich and Vienna, hiked the Swiss Alps, executed complex surgeries, and trained America's first professional nurses, ultimately inspiring a new generation of female surgeons. It's no surprise that a prestigious Viennese medical professor, when asked for advice to aspiring young doctors, replied simply, "Make yourself to be like Miss Dimock." This biography is the first to give Susan Dimock her rightful place in medical, women's, and world history.
WHERE CAN YOU BUY THE BOOK?:
MCFARLAND BOOKS
AMAZON
GOODREADS
BARNES & NOBLE
sections:
New Publications
|
Previous Books
|