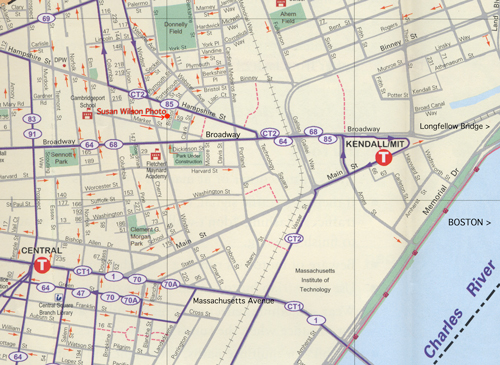 87 Bristol Street, Suite 2B
Cambridge, MA 02139
DIRECTIONS TO SUSAN WILSON'S STUDIO
87 Bristol Street, Suite 2b, Cambridge 02139.
Your GPS will get you in the vicinity – after which most people get lost, which is why we recommend you read the following!
AREA LANDMARKS:
We are in the Kendall Square area, in the heart of "GeneTown," not far from the Kendall Cinemas, Lord Hobo, the One Kendall complex, and The Automatic restaurant. Our segment of Bristol Street is a small one-way passage between Broadway and Hampshire streets, accessible only via Windsor because of other one-way streets.
OUR PARKING LOT:
People often over-shoot our lot. Once you turn left on Bristol, there will be a tot lot on your right, and a large gray building on the left corner. The next large, 12-car, gravel parking lot on your left — with 87 on the left and right fence posts — is us, 87 Bristol. Our three-story gray building is at the back right hand side of the lot, and actually behind the red house marked number 85. If you get as far as Hampshire, back up a half a block and come on into our free lot!
T STOPS:
We are a 10-15 minute walk from the Kendall or Central Square Red Line T stops. The 68 bus, which runs from Harvard Square to Kendall Square, stops one block away.
WALKING FROM THE KENDALL/M.I.T. RED LINE T STOP:
Depending on your pace and the weather, it's about a 10-15 minute walk from the T stop to the studio. When you emerge from the T you're on Main Street, Cambridge. Make sure the tower clock, the Charles River, and Boston are to your back. Walk to the corner of Ames, passing the MIT Coop and the big fish sculpture of Legal Seafoods on your right. Take a right onto Ames, follow Ames to the next corner (Starbucks and Quantum Books), then take a left onto Broadway. Continue on Broadway, crossing over Galileo, past a huge billboard on the right, then crossing the railroad tracks and a couple of stoplights.
After you pass Portland Street and the Garment District store, you'll see a Dunkin Donuts on the left. Bear right at the Y in the road onto Market Street. Walk down one more block, taking a right onto Bristol Street, passing around the Market Street Park (tot lot) at the corner. Once on Bristol, we are No. 87, facing the park -- a large gravel parking lot. Walk to the back of the parking area, then take a right on the red brick walkway to our building.